Bottle-Less Water Option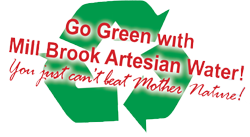 Mill Brook Water Company knows that it is tough to be competitive in today's market and we know your are concerned about the quality of your drinking water, that is why we want to offer you another option to our growing drinking water business, along with our patented Artesian bulk drinking water system, our Artesian 5 gallon bottled water and our own private label bottled water in sizes ranging from 12 ounce to 20 ounce, we are proud to introduce our newest product to you, the Bottle-Less Water Cooler.
Using the best certified filtration technology today, we take your current source of drinking water, run it thru our filtration system, then supply our own point of use cooler giving you an endless supply of good tasting, pure, clean and safe drinking water at a low convenient monthly fee.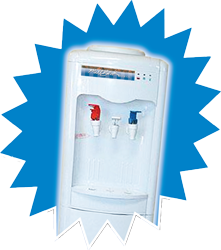 Our installation process is fast, simple and temporary using 1/4" food grade flexible tubing, we run our line from your current water source right to our own cooler, we conceal the tubing and a complete installation takes about 1 hour.
Options for our coolers and systems include: cooler mounted ozone sanitizer, u.v. light, water meter, and many more options just ask and we can get it for you.
No packaging, no deliveries, no lifting, no storing bottles, no spills, just good clean dependable drinking water .
All of this for as low as $29.95 per month
Contact us for more information & let Mill Brook Water Company help you with all your drinking water options.